State-of-the-art technology sets course for Australia
Logistics tour de force sees six allflux® fluidised bed separators on their way from Poland to the Pilbara region of Western Australia.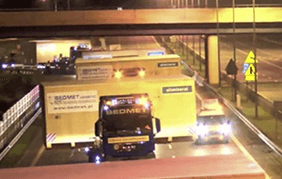 A new wet processing plant to be set up by mid-2015 to is set to expand a Pilbara mine's capacity to 56 million tonnes a year. At the core of the ore beneficiation plant are six allflux®-1500 fluidised bed separators from allmineral. The separators were manufactured, pre-assembled, and extensively tested in the Polish city of Opole before being despatched by heavy-load transport to the port of shipment in March 2014 in what proved to be a logistical tour de force.
Even before the convoy of vehicles got underway, a great deal of high-precision journey preparation work was required. The team had already begun loading up the machines around 2 pm. Giant cranes were used to manoeuvre the allflux®-1500s packed inside their shipping crates onto the haulage vehicles. Roads and motorways then had to be completely closed to traffic so these huge machines weighing 22 tonnes each could be transported to the Polish port of shipment at Malczyce. The crates measuring 7.4 m in length, 7.4 m in width, and 3.2 m in height, were transported through the Polish night by heavy-load vehicles. Time and time again support staff and escort vehicles had to dismantle road signs and street lamps along the way. In some places there were just millimetres to spare between the machines and the roadside obstacles (bridges, toll booths, etc.).
Four hours later the convoy reached the port of Malczyce, some 140 km distant, where the crates were loaded onto an inland waterway vessel to be ferried on to the port of Hamburg. The six allflux®-1500s are scheduled to reach their destination – Port Hedland in north-western Australia – in late May. The final 400 km to their future operating site will be covered by special haulage vehicles. This latest shipment means that the number of allflux® fluidised bed separators in operation in iron ore mining in Australia is now 31. Another ten machines are to be supplied to another significant iron ore project under construction in the region during the course of this year. Among major iron ore processors in Australia, allmineral's innovative processing technology is well recognised and established. Ore from the some areas of the Pilbara region is characterised by a relatively low iron content yet allmineral technology allows it to be processed efficiently into higher grade products.
Each allflux®-1500 fluidised bed separator has a throughput of 250 tonnes of iron ore per hour. The feed material (particle size < 1 mm) is separated in two stages based upon particle size and density. The technology used for the hydraulic classification and process control equipment is such that each machine unit is able to produce three graded products of separation. "For efficient sorting of hematite iron ore our plant and machinery has been tried and tested all over the world"« notes CEO Heribert Breuer with satisfaction. "It will now be possible to secure financially successful mining operations in the Pilbara region for many years to come allowing existing and planned mining operations in Western Australia to enjoy vigorous and sustainable growth.«
allmineral is a leading supplier of customised processing plants and equipment for the mining industry worldwide. More than 750 installations designed in Duisburg for dry and wet processing of primary and secondary raw materials are currently operating reliably and efficiently around the globe.